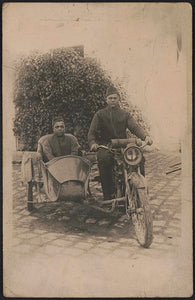 6 World War I Motorcycles: The History, Models, and Uses
The first combustion engine motorcycle was invented in 1885 as an experimental consumer vehicle. As World War I broke out just three decades later, they were repurposed as core components of British, German, and American military fleets.
Seemingly overnight, armies went from needing more horses to needing more horsepower. In the eyes of generals, motorcycles were agile machines capable of handling rugged terrain, transporting injured soldiers, and running mounted artillery.
If you're curious about what models played a role in WWI, this piece is for you. Competition Distributing, a leading vintage motorcycle parts supplier, takes a look at six motorcycles that navigated the treacherous landscape of the frontlines.
Harley-Davidson Model J
Preceding the iconic Harley-Davidson JD Model was the 1917 Model J. As per the request of the United States military, these iron workhorses were painted olive green. The Model J would lock in the color of nearly every Harley until the 1930s.
Equipped with a 61-cubic-inch (CI) F-head motor with 16 HP, 3.31-inch bore by 3.5-inch stroke, 2.75-gallon fuel capacity and 2.5-quart oil tank, and 3-speed transmission, it became a vehicle synonymous with cutting-edge ruggedness, power, and speed.
When America entered WWI, the U.S. Army purchased an estimated 20,000 olive green Harley-Davidson motorcycles. The Model J often came outfitted with accessories such as sidecars, shields, and machine guns.
Indian Powerplus Big Twin
Indian devoted much of its production efforts to supplying troops with motorcycles in the Great War. Outpacing Harley, Indian produced an estimated 50,000 motorcycles for the U.S. military. Moreover, their PowerPlus Big Twin packed a 61-cubic inch side valve motor that produced 18 horsepower.
The PowerPlus was often outfitted with sidecar mounted machine guns, converted into ambulances via sidecar stretchers, and used to transport equipment expeditiously. 
Excelsior Model 19
The American Excelsior Model 19 was a 1000cc intake/inlet V-twin that emerged as a critical set of wheels toward the end of WWI. The Excelsior was the fastest American motorbike, with the ability to hit speeds of 100 mph. These bikes were tested in mountainous terrain and deserts, ensuring an unrivaled ruggedness. During WWI, about 3,500 Excelsiors saw the frontlines.
Douglas 2 3/4hp and 4hp
Douglas motorcycles were the ride of choice for dispatchers in WWI. The British motorcycle manufacturer supplied roughly 70,000 2 3/4hp and 4hp motorcycles to the Allied Forces. As a smooth and fast ride, they were the go-to communication vehicle for the British.
Triumph & Triumph Werke Nürnberg (TWN)
Triumph motorcycles were some of the first bikes to hit the frontlines. Triumph's Type H motorcycle became a critical communication vehicle for the Allied Forces.
They were quick and quiet, allowing for the ability to travel stealthily. However, these bikes were also commonly outfitted with Vickers machine guns. As an added benefit, a Triumph could reliably handle uneven terrain, earning it the name "Trusty."
By the end of the war, Triumph delivered over 30,000 bikes to the Allies.
Clyno
Like Triumph's bikes, Clyno motorcycles were manufactured with Vickers machine gun attachments. They were used regularly by the Motor Machine Gun Service, a unit of the British Army composed of motorcycle fleets with sidecar machine guns. During the war, the British purchased nearly 2,000 of them.
Honorable Mentions
Harley and Indian certainly had the most bikes in the Great War. However, there is evidence that various other motorcycle manufacturers contributed bikes such as:
Zenith Motorcycles

Phelon & Moore (P&M)

Sunbeam
The Transition of Technology
WWI was unlike any war before it, especially when you look at how the war was fought. On one hand, men rode horses and fought in trenches with bayonets on their guns. On the other, soldiers were firing machine guns, driving tanks, and of course, riding motorcycles. The vehicles and methods of going to and from the frontlines seem almost incongruous through the lens of today.
Motorcycles on the Frontlines
Their versatility, speed, and maneuverability made motorcycles a valuable asset during WWI. From transporting supplies to evacuating wounded soldiers, motorcycles revolutionized how people operate on the frontlines.
The harsh conditions of the battlefield challenged manufacturers to push the bounds of technology and develop bikes that were up to navigating the wartorn terrain. Many of the technological advancements made during the Great war have influenced modern bikes.
After World War I, the use of motorcycles hit a staggering decline. Many of the manufacturers of the early 1900s no longer exist due to the sudden lack of demand. However, the vintage bikes of the 20th century are now prized possessions among gearheads everywhere.
Parts for Vintage Bikes
While these vintage frontline workhorses are beautiful, they're exceptionally difficult to find parts for. However, Competition Distributing is helping bikers overcome that challenge with one of the most extensive online shops for vintage motorcycle parts.
Whether you're looking for parts for your J/JD Harley, Flying Merkel, Indian, or Peashooter, we have you covered.
Visit our shop
today to browse our selection.
---